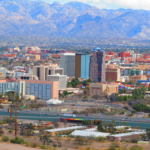 Be Heard is a collaboration of like-minded community members who support responsible growth in Southern Arizona. Share your voice, BE HEARD! Your voice is being requested in Support of an Infill  Development and Final Plat approval: Mountain Enclave.
strong>Tuesday, January 28, 2020, 5:30 pm
Fire Central, Tucson Fire Station 1
300 S. Fire Central Place, 1st Floor
*PLEASE NOTE this meeting is NOT being held at Mayor & Council Chambers*
On January 28th, the Tucson Mayor and Council (M&C) will make its decision on a residential Final Plat – a decision that could significantly impact all residential development in the City.  In December, Rio West and KB Home were expecting Final Plat approval from the M&C on consent agenda for an infill, single-family residential project called Mountain Enclave (the Project) that is using the City's Flexible Lot Development (FLD) option.  Instead, opposition from a few vocal Mountain View neighborhood residents and other anti-growth activists resulted in M&C pulling the Final Plat from the consent agenda and continuing the case to January 28th.
It is critical the development community attend the January 28th meeting to ensure that a code-compliant Final Plat will not be denied based on neighborhood opposition, either now or in the future.  By attending, you can show your support for the FLD and residential infill development.  This support will also send a message that certainty in the City' code review and platting process is critical to development in the City. If you cannot attend, email your support of the Mountain Enclave Final Plat approval to the Mayor and each council office (a template and email addresses are below). 
Background: The Project proposes 76 individually owned, single-family homes (12 RAC) in north central Tucson near Mountain Ave. and Fort Lowell Rd.  The zoning is R-2, which permits up to 22 RAC for single family residential using the FLD, and permits up to 94 apartments without utilizing the FLD option.  The Project's 12 RAC fits within the surrounding neighborhood, which has densities ranging from 6 to 14 RAC.  The Mountain Enclave developers worked with the neighbors and made multiple concessions, including not using Kleindale Rd. for access (which required purchasing an additional lot to accommodate access), designing significant architectural variety, and providing additional screening and landscaping for privacy.  Mountain Enclave is thoughtfully designed with architectural and privacy features that complement the neighborhood.  It is the appropriate type of infill development that is in high demand by Tucson's home buyers.
The City's Development Services Staff and its Design Professional have approved the Plat after at least four reviews to ensure code compliance.  By law, M&C must approve the Final Plat because it meets all code requirements.  Some vocal Mountain View neighborhood residents and others who live outside of the area do not want the Project built.  These opponents have unsuccessfully challenged the Project throughout the process, including failed Board of Adjustment and Superior Court appeals. They see the Final Plat as the last opportunity to stop the Project.  It is critical that the development community send a clear message to the M&C that infill development is supported in Tucson, and the FLD is an effective tool for infill development.  
Letter/email format:
Date
Mayor and Council
c/o City Clerk's Office
City of Tucson
255 W. Alameda St.
Tucson, AZ 85701
Re: Mountain Enclave Final Plat Approval
Dear Mayor and Council,
I am writing to encourage you to approve the Mountain Enclave Final Plat, and I support the City's use of the Flexible Lot Development ("FLD") as a tool for infill development.  The FLD ensures we grow sustainably as a region and assists in keeping housing prices affordable.
[PLEASE INSERT your thoughts on why you support residential infill development and/or the use of the FLD]
I urge you to approve the Mountain Enclave Final Plat.
Sincerely,
Email Addresses: Mayor1@tucsonaz.gov; Ward1@tucsonaz.gov; Ward2@tucsonaz.gov; Ward3@tucsonaz.gov; Ward4@tucsonaz.gov; Ward5@tucsonaz.gov; Ward6@tucsonaz.gov