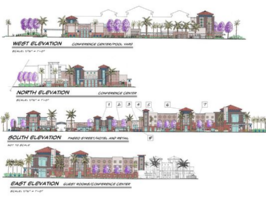 Hotel giant Sheraton broke ground March 31 on a four-story, 180-room Sheraton Mesa Hotel, the first component of the Wrigleyville commercial area within the Chicago Cubs complex. The Mesa City Council had approved the sale of the 8.4 acres valued at $2.7 million ($7.37 PSF) to East Valley hotelier Bob Yost in December.
The privately financed Wrigleyville area is the last piece of the 140-acre complex on Rio Salado Parkway near Dobson, which already boasts a 15,000-seat baseball stadium and Riverview Park. The park's fishing lake, playground and rock-climbing wall have attracted scores of local families since its January opening.
The hotel will include a bar, pools, jacuzzis, fitness center, restaurants and a sprawling conference center, among other amenities. Mesa-based project developer BCY LLC also has agreed to construct a minimum of 20,000 square-feet of adjacent retail space and will be recruiting restaurants and other retailers, according to the city.
"(This hotel) is going to grab the attention of meeting and event planners, tour operators, retail travel agents and, of course, leisure travelers," Visit Mesa President and CEO Marc Garcia said at the groundbreaking.
"We also have an enhancement of our portfolio here in Mesa," he said. "With 12,000 square feet of permanent, carpeted ballroom space and with an additional 25,000 square feet of flexible ancillary space, we're now in a position where we can go after certain clients in certain market segments that we haven't been able to in the past."
Sheraton Hotel Mesa general manager Kevin Thorpe said he expected the hotel to create about 100 jobs, including hourly positions and salaried managerial posts.
The Sheraton is set to open in January 2015.