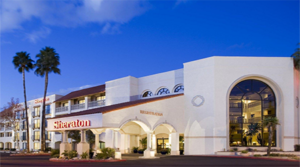 Redesigned Hotel Guest Rooms, New Restaurant Concept, Updated Conference Space and Transformed Public Spaces 
Tucson, Arizona – Sheraton Tucson Hotel and Suites at 5151 East Grant Road in Tucson has announced that its $6.5 million renovation is underway and it includes significant redesign and dynamic renewal of its property.  The transformation is part of an ongoing effort by TNB Hotels to bring innovation, quality and comfort to hotels.  Sheraton Tucson Hotel and Suites will be spending $20,000 per key with the remainder investment being expended on restaurant, lobby and conference center.  Renovated rooms are now available for occupancy with 90% of the room renovation already complete.
"Sheraton Tucson Hotel and Suites will truly embody the brand's contemporary and comfortable new look and feel. The renovations will greatly improve the guest experience by creating an atmosphere where travelers can make enjoy all the brand's recently enhanced signature services and amenities," said Margaret Robidoux, General Manager, Sheraton Tucson Hotel and Suites. "Our guests will be pleased with the results of our comprehensive transformation and have collaborated with us on everything from the new guest room design to the new culinary experience."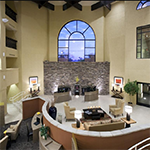 TNB Hotels, having purchased the property in 2015, is excited to be part of the growth Tucson is experiencing and will continue to evaluate future investment opportunities throughout Tucson and the state of Arizona.  "The mission of TNB Hotel Management is to create life-long guests through delivering exceptional service to every individual through product innovation and repositioning opportunities." said Ted Nager, owner of TNB Hotels.     In addition to innovative renovation in the overnight rooms that include technology upgrades, Sheraton Tucson Hotel and Suites will be updating their 14,000 square feet of conference center space to ensure a versatile and inventive experience.
Sheraton Tucson Hotel and Suites is creating a new state of the art fitness center sure to maximize and fuel your work-outs.  Encompassing 2,200-square-feet, this will include ladies and men's locker rooms, yoga and stretching area and all the fitness equipment one comes to expect in an independent fitness membership facility.    Opening in 2017, Tucson's newest dining spot for mouthwatering dishes and creative drinks – The Glowbal – will offer hotel guests and local residents an exclusive setting with modern décor in an intimate atmosphere. The Glowbal will encompass the fusion of international cuisine while highlighting the bold flavors and ingredients of North American countries from Canada to Cuba. New restaurant concept of TNB Hotels.
The renovation is being completed in phases designed to have the lowest impact to current guests.  With an estimate completion in second quarter 2018, Sheraton Tucson Hotel and Suites will create an energized environment for guests to maximize their work and play.  The updates will exceed guest expectations and provide an effortless travel experience.  Sheraton Tucson Hotel and Suites is excited to be part of the Marriott International Family and looks forward to serving all of Tucson needs in a full-service hotel capacity.
TNB Hotels operates and owns over 15 hotels, with offices in Washington, Idaho, Oregon, Arizona and Vancouver BC.