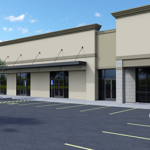 SCOTTSDALE, AZ – Scottsdale-based developer SimonCRE purchased ±3.04 acres of land at the southeast corner of Williams Field Road and Val Vista Road and will develop three retail buildings totaling ±15,000-square-feet; a ±9,900-square-foot multi-tenant retail building, a 3,000-square-foot freestanding restaurant building, and a 3,009-square-foot freestanding building.
The site is located approximately one mile west of SanTan VIllage Shopping Center and SanTan Village Marketplace. The site is also within approximately one mile of the Loop 202 Santan Freeway to both the east and the south. SimonCRE plans to break ground on the new development October 1, 2016 with a completion date set for the end of the first quarter 2017.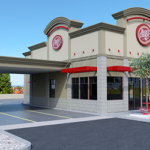 "We're excited to be part of this growing Gilbert trade area and to be nestled into the strong SanTan Village retail corridor," said Joshua Simon, President of SimonCRE. "This development will bring an exciting new mix of tenants to the surrounding communities. There's going to be great synergy between the retail, service, and dining options that will be joining this development."
Prior to closing, SimonCRE signed leases with First Watch, a breakfast and lunch cafe, Herbal Nails & Spa, and Planet Subs to take space in the multi-tenant building. These tenants will occupy roughly 6,800 square feet and negotiations are currently ongoing for the remaining spaces.
Additionally, Bush's Chicken, a Texas-based fast food restaurant founded in 1996 and specializing in marinated chicken, rolls, and sweet tea, signed a lease for the 3,000-square-foot freestanding building. This will be the first location outside of the state of Texas for the restaurant chain.
Blake's Lotaburger also signed a lease for the 3,009-square-foot freestanding building. Founded and based in Albuquerque, New Mexico, Blake's Lotaburger is synonymous with the Green Chile Cheeseburger. The chain has grown to 80 locations across New Mexico, Texas, and Arizona, however this will be the Valley's first location.
Lance Umble and Torrey Briegel with Phoenix Commercial Advisors represented the seller in the purchase, and are representing SimonCRE in the lease transactions. David Jarand with Strategic Retail Group represented First Watch; David Uhles and Brian Gausden with Western Retail Advisors represented Planet Subs; Mark Sunkel with Core Realty Partners represented Blake's Lotaburger; Jennifer Eggert with Orion Investment Real Estate represented Herbal Nails; and Chris Mueller with Reata Real Estate Services represented Bush's Chicken.