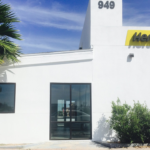 SCOTTSDALE, AZ – Commercial real estate developer SimonCRE has purchased two existing commercial retail buildings with signed leases with national and international Hertz Rent-A-Car and Dollar General.
The site for Hertz Rental Car facility is located at 949 W. Camelback Road in Phoenix, Arizona, just west of 7th Avenue on Camelback Road.  There has been significant recent activity and retailers choosing this trade area, such as LA Fitness, Starbucks and Southern Rail, a sister restaurant of Beckett's Table.
"The redevelopment in the Central Phoenix trade area will be a successful location for Hertz," said Josh Simon, President of SimonCRE.  "We see this property as a great long term investment with it's infill location, being located along the light rail and at a full access intersection with a stop light."
There are over a dozen automobile repair shops and auto dealership sites within a one mile radius of the site.  Several major brand car dealerships are located less than two miles east of the location on Camelback Road.  Hertz being located here will provide an invaluable service in a close, convenient location to these other businesses.  Hertz is set to open early April, 2015.
In Golden Valley, Arizona, SimonCRE purchased an existing 9,014-square-foot building leased by Dollar General.  The location, although an existing building, is in a rural market in Arizona with very limited competition.  The property is located at 5181 W. Hwy 68 in Golden Valley on just over three acres and directly in the path to other future development sites.  As a developer for Dollar General, this reiterates SimonCRE's belief in Dollar General's core business principles and superior operations.