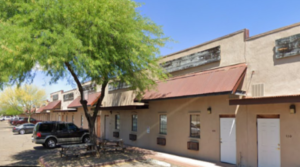 by Max Fisher of BRD Realty
TUCSON, ARIZONA -- The small-medium industrial bay leasing market has had a strong and steady Q1, mostly impacted by the housing market, distribution market, and mining industry. As the housing market continues to stay hot, contractors continue to stay busy and expand, fueling the small-medium industrial bay demand.
The Northwest market continues to be the most expensive market as most service/trades businesses want to be close to the expanding markets (Marana, Oro Valley) and I-10.
We can expect lease rates to climb until the vacancy loosens up which will not happen until the housing market development starts to cool off. Medium bay leasing is also a very strong sector of the market mostly due to the demand for increased distribution and storage of building materials.
We can expect to see more industrial development occur where vacant industrial land permits as build-to-suits become more popular for last mile distribution.
12,032 SF at 420 E Aviation was leased to Nature's Designs. This lease was handled  by Max Fisher of BRD Realty
5,000 SF at 3251 S Dodge was leased to The UTV Shop LLC. This lease was handled  by Max Fisher of BRD Realty
8,400 SF of spec industrial warehousing development was leased to H-E Parts International, the mining division. Max Fisher of BRD Realty represented the landlord and Rob Glaser of PICOR represented the tenant. MJI Company was the developer, builder, and landlord in the transaction.
7,538 SF at 3318 E Pennsylvania was leased to the UTV Shop LLC. This lease was handled  by Max Fisher of BRD Realty
4,000 SF at 2010 N Forbes was leased to Fusion Plumbing. This lease was handled  by Max Fisher of BRD Realty
1,200 SF at 90 W Fort Lowell was leased to Hammer Strength Metal. This lease was handled  by Max Fisher of BRD Realty
1,400 SF at 60 W Fort Lowell was leased to Stacia Moore. This lease was handled  by Max Fisher of BRD Realty
1,390 Sf at 850 E Ohio Suite 1 was leased to Moving Gate systems.  This lease was handled  by Max Fisher of BRD Realty
3,180 SF at 2002 E 14th St was leased to Inch by Inch LLC. Max Fisher of BRD Realty represented the landlord and Barrie Herr of Long Realty represented the tenant.
1,000 SF at 2112 N Dragoon Suite 24 was leased to Jason Taylor. This lease was handled  by Max Fisher of BRD Realty
1,100 SF at 3820 E 44th St Suite 120 was leased to Janitorial Experts. This lease was handled  by Max Fisher of BRD Realty
1,500 SF at 6894 N Camino Martin Suite 120 was leased to Carrera Tucson LLC. This lease was handled  by Max Fisher of BRD Realty
1,500 SF at 6910 N Camino Martin Suite 100 was leased to Sun River Gold LLC. This lease was handled  by Max Fisher of BRD Realty