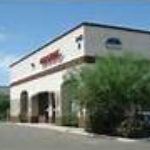 Citing continued strong investor interest and robust leasing activity among smaller users, the Phoenix office of Jones Lang LaSalle (JLL) has sold the Bullard Goodyear Commerce Center, a six-building, 182,496-square-foot flex industrial property in Goodyear, AZ sold for $12.6 million ($69 PSF).
Jones Lang LaSalle Associate Riley Gilbert, along with Jones Lang LaSalle Managing Directors Anthony J. Lydon and Marc Hertzberg, managed the property's sale on behalf of the seller, a wholly owned subsidiary of The Guardian Life Insurance Company of America.
Prior to the property sale, JLL led an aggressive 30-month leasing campaign that inked more than 100,000-square-feet in new leases. The commitments brought the industrial development from less than 30 percent occupied to more than 85 percent occupied, with 35 tenants and well positioned for sale.
"These were predominantly small bay deals—the mom-and-pop and regional users that survived the downturn and are now back in the market, creating demand and filling vacant space," said Gilbert. "This activity turned an already well located project into an equally well occupied one, with limited direct competition and tremendous upside potential based on a proven trend of consistency."
According to Gilbert, much of this activity is the result of a rebounding homebuilder market and the exponential growth of the West Valley, including neighboring Buckeye, which was the ninth fastest growing community in the nation in 2012.
Located at 500-600 N. Bullard Ave. in Goodyear, the Bullard Goodyear Commerce Center encompasses six office/warehouse buildings totaling 182,496-square-feet on 14.35 acres. Amenities include 20 ft. clear heights, community truck wells, PAD zoning within the City of Goodyear and access to a full diamond interchange at I-10 and Bullard Avenue. The space offers divisibility from a minimum of 2,493 square feet.
"This project provides smaller-scale lease opportunities in a market dominated by large-scale users," said Gilbert. "That makes for a unique and valuable asset that is located in the middle of a tremendous amount of planned growth."
Gilbert, Lydon and Herzberg should be contacted at (602) 282-6300.