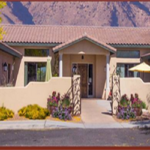 The 127-bed Friendship Villas at La Cholla at 6505 N La Cholla Blvd in Tucson sold recently to Soltera Assisted Living Homes of Scottsdale, AZ ( Steve Jorgenson, CEO) for $15.4 million ($121,260 per bed). The seller was an owner operator, La Cholla Properties, LLC (Phillip A Secker, manager).
Friendship Villas is an Assisted Living, Parkinson's Care and Memory Care Neighborhood, licensed for ALL three levels of Assisted Living, including: Supervisory, Personal and Directed Care. Five uniquely designed Custom Villas, allow residents to Age in Place, with all the comforts of home. At Friendship Villas at La Cholla, important services such as Physical Therapy, Occupational Therapy, Speech Therapy, Home Health, Wound Care, Mobile Labs, Mobile Dental, Podiatry and even Hospice, are brought into the community, so that residents can receive such services in the comfort of their home.
Located in Northwest Tucson, each of the 5 custom villas offer spacious suites, wonderful indoor and outdoor common spaces that both residents and their families take full advantage of throughout the day. Each suite was created with an emphasis on resident comfort, family–style privacy, natural lighting, accessible private and public bathrooms as well as tranquil spaces to enjoy the beauty of Tucson.
Solterra Management Group is a full-service owner and operator of five other Senior Living Communities in Arizona and Colorado and a Home Care Service company in Colorado. Solterra's service focus is comprehensive in that the company provides short term, long term and in home senior care to over 450 residents in communities located in Yuma, White Mountains, Castle Rock, Chandler, and Phoenix.
To learn more, see RED Comp #4265.