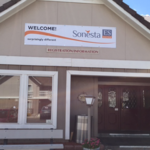 New Extended Stay Brand, Officially Launched in May 2015, Grows to 25 Hotels in U.S.
Newton, MA-based Sonesta International Hotels Corporation, parent company for its Sonesta ES Suites brand purchased recently nine new extended stay hotels. Sonesta ES Suitest extended stay brand for Sonesta, officially launched in May 2015. The original announcement included details of the over $250 million investment made in upgrades and redesigns to the U.S. extended stay and full service collection.
With the addition of these new locations, Sonesta ES Suites expands its footprint from 16 to 25 hotels nationwide. Travelers will now find Sonesta ES Suites in: Tucson, AZ; Colorado Springs, CO; Minneapolis-St. Paul, MN; Omaha, NE; Princeton/Monmouth Junction, NJ; Somers Point, NJ; Cincinnati, OH; Oklahoma City, OK and Burlington, VT.
The Tucson property was formerly a Residence Inn at 6477 E Speedway Blvd. in Tucson and commanded a $5.5 million sale price ($43,000 per room) for the 128-suite hotel on 3.8 acres east of Wilmot and El Dorado Place on Speedway. Banners went up on the building July 23rd to officially rebrand the property. Remodeling is scheduled for later next Spring.
This is the second Arizona hotel property for Sonesta ES Suites, the first being in Flagstaff. Earlier this month, Sonesta also celebrated the grand opening of the full-service Sonesta Bee Cave Austin, a new build hotel in greater Austin, TX.
Sonesta ES Suites is a surprisingly different take on extended stay hotels. Designed to be flexible to cater to the diverse needs of guests, each of the residence-style hotels feature oversized accommodations, adaptable work areas and common spaces, and a friendly, attentive staff that aim to make guests feel relaxed and comfortable.
From studios to roomy one- and two-bedroom units, Sonesta ES Suites provide an ideal amount of space and versatility for business travelers, families on vacation, or guests relocating for extended periods of time. Each suite is fitted with a fully equipped kitchen, helping guests to manage budgets while separate bedrooms and living spaces offer privacy and space to relax and recharge. From free daily breakfast, unexpected treats and social gatherings to celebrating the unique culture and flavor of the local community, guests of Sonesta ES Suites enjoy a distinctive experience along with the warm and welcoming feeling of employees who care.
"This is a big day for Sonesta," said Carlos Flores, President & Chief Executive Officer of Sonesta International Hotels Corporation. "We're very excited about the growth of our new extended stay brand Sonesta ES Suites as well as our U.S. collection as a whole, which has increased to 35 hotels nationwide. We look forward to continuing to deliver our authentic hospitality to our guests, with now even more exciting destinations for past and first-time visitors to choose from."
Sonesta is thoughtfully adding new hotels each year, taking great consideration to expand on the collection without compromising its commitment to authenticity and genuine hospitality. For more information about each property and new destination visit Sonesta.com/growth.
With this announcement, Sonesta ES Suites can now be found in 18 U.S. States.