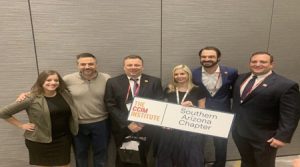 TUCSON, AZ (November 2, 2023) -- The Southern Arizona CCIM Chapter is thrilled to announce the successful pinning of five new Certified Commercial Investment Members (CCIM) last week in a joyous celebration in Seattle. The ceremony was a momentous occasion that marked the dedication, hard work, and commitment of these exceptional individuals to the field of commercial real estate.
The CCIM Designation Curriculum
The cornerstone of the CCIM program, the Designation curriculum, is designed to equip practitioners with the skills they need to profit from the ever-changing commercial real estate industry. These students completed four core courses (CI 101, CI102, CI103 & CI 104), completed a work history portfolio, and passed the 6-hour exam in Seattle to earn the CCIM Designation.
The event brought together many attendees, including Chapter Board Members, Tucson Designees, and friends, who gathered to honor and support the newly minted CCIM
designees. The atmosphere was filled with excitement and camaraderie as the Southern Arizona CCIM family came together to celebrate the accomplishments of the following
individuals:
Elaina Elliott, CCIM, Larsen Baker
Jake Arnold, CCIM, Arnold Real Estate Network
Robert Motz, CCIM, Tucson Federal Credit Union
Omer Kreso, CCIM, Realty Executive Arizona Territory
Ted Herman, CCIM, Larsen Baker
The Southern Arizona CCIM Chapter takes immense pride in the dedication and perseverance displayed by these new designees, and their remarkable achievement is a
testament to their commitment to excellence in the real estate profession. Their hard work and relentless pursuit of knowledge in commercial real estate have culminated in
this well-deserved recognition.
Chapter President Michelle Cunningham, CCIM, expressed her admiration and congratulated the designees for their outstanding accomplishment. She said, "We are incredibly proud of Elaina, Jake, Robert, Omer, and Ted for their dedication and determination in earning the prestigious CCIM designation. Their success reflects not only their commitment to the profession but also their contribution to the Southern Arizona CCIM Chapter. We look forward to their continued success in the real estate industry."
The celebration was marked by unity and collaboration within the Southern Arizona CCIM Chapter, emphasizing the importance of supporting and uplifting each other
toward greater success. The chapter remains committed to fostering a culture of excellence, knowledge sharing, and professional growth among its members.
For more information about the Southern Arizona CCIM Chapter and its commitment to professional excellence, please visit southernazccimchapter.com.