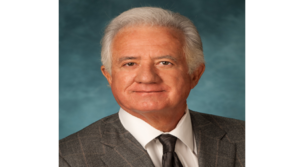 Tucson, Arizona, December 9, 2022  - The Southern Arizona CCIM Chapter will be expressing their gratitude to Humberto Lopez, HSL Properties this December 13th at their monthly lunch meeting, where he has been invited for generously supporting Southern Arizona CCIM Chapter's commendable professionals in their pursuit of the CCIM Designation by funding our fourth named educational scholarship.
Tuesday 13th December
11:30am - 1:00pm
Doubletree by Hilton Reid Park, Bonsai Room | 445 S Alvernon Way, Tucson, AZ 85711
The CCIM Foundation named educational scholarship program is designed to encourage and assist professionals pursuing the CCIM designation and to promote high educational standards. The program enables commendable professionals in the real estate industry to experience the CCIM Institute's education first hand. The fully funded named educational scholarships are awarded through CCIM Chapters and other scholarship sponsors.
In 1975 Humberto Lopez co-founded HSL Properties, Inc. a real estate company with diversified assets of approximately $2.5 billion. He has had direct responsibility for the acquisition, capitalization, financing, renovation and marketing of over 30,000 apartment units, over 2,000 hotel rooms, shopping centers, office buildings, industrial buildings, and thousands of acres of land.  Mr. Lopez has been an active investor in diverse property types throughout the United States and has handled all phases of real estate ownership.
In 2004 he founded The H.S. Lopez Family Foundation, a non-profit organization that has contributed over $20 million to date to many non-profit organizations with an emphasis in health, welfare and education. In 2017 he founded the Center of Opportunity by buying a 301-room hotel on over 8 acres and with over 20,000 sq. ft. of public space that has been converted to a homeless shelter.
This month's Southern Arizona CCIM Chapter meeting has George Larsen, Larsen Baker's CEO and Co-founder, who has also been a scholarship honoree since 2007 and Melissa Lal, Larsen Baker's President and Co-owner as presenters.  The event is on December 13th, from 11:30am - 1:00pm, at the Doubletree by Hilton Reid Park, Bonsai Room, 445 S Alvernon Way, Tucson, AZ 85711.  Registration fee is $35 for Chapter Members and $45 for Guests. Register HERE.
Every Month, directly after the lunch meeting, the Southern Arizona CCIM Chapter hosts a Department of Real Estate Credit Class from 1:30pm - 4:30:pm.
December's class is Environmental Disclosure and Commercial Transaction (Category: Disclosure). The licensee will learn Statutory & Regulatory duties regarding the disclosure of environmental issues in commercial Lease & Sale Transactions. Students will find out what WQARF & Superfund Sites are and why licensees need to know what they are and where they are located in the licensee's Market Area. Registration fee, FREE to Chapter Members and $40 for Guests.  Register HERE.