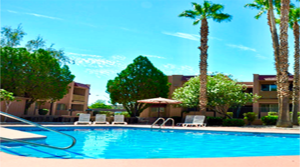 TUCSON, ARIZONA — The Apex Real Estate Network of KW Commercial is pleased to announce the sale of the St. Philips Corner Apartments, located along the heavily traveled Campbell thoroughfare in Tucson, Arizona. The 62-unit property sold for $5.5 million or $88,709 per unit.
"The buyer's agents contacted me just before the listing was set to go active and they were eager to get in front of the property for their clients who were entering a 1031 exchange out of Chicago," said Chris Itule with The Apex Real Estate Network of KW Commercial. "They promptly submitted an LOI that caught the seller's attention and we were in escrow shortly thereafter."
St. Philips Corner Apartments is located at 3993 N Campbell Ave Tucson, AZ 85719 on the southwest corner of Campbell Ave & Roger Rd just south of the Catalina Foothills.
Built in 1976, the master metered property was immaculately maintained by the seller who owned the asset since 1998.
"The property location and condition was the driving force for the acquisition of the property," stated Jade Bossert of Tierra Antigua. The property sits directly south of The University of Arizona Agricultural Center which provides unobstructed views of the Catalinas.
Chris Itule of The Apex Real Estate Network of KW Commercial represented the seller with the Thrasher Law Firm, PLLC providing legal consul. Jade Bossert and Charlie Spaulding III of Tierra Antigua Realty represented the buyer with Remick West-Watt, PLC providing legal consul.
For more information on this transaction, Itule can be reached at 520.441.3993 and Bossert is at 520.797.6900 and Spaulding can be contacted at 520.488.9091.
To learn more, see RED Comp #7225.