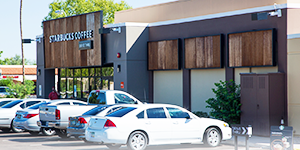 Phoenix, Ariz. – CBRE has completed the sale of a single-tenant, Starbucks located at 1741 E. Warner Road in Tempe, Ariz. The 2,720-square-foot retail property is situated on approximately 32,452-square-feet of land and commanded a sale price of $2.5 million.
Joseph Compagno with CBRE's Phoenix office represented both the buyer and the seller in the transaction. The seller was Scottsdale, Ariz.-based Garrett Development Corporation. The buyer was AJ Gardner Family Trust and the Childs Family Investment Partnership of Los Angeles, Calif.
Starbucks opened for business at this location in September of 2014 and benefits from a highly-sought after infill location in Tempe. The property is situated on a pad to the newly remodeled Bashas' anchored Cobblestone Village shopping center. The Starbucks is also adjacent to a Wells Fargo bank pad.
To learn more Compagno should be reached at 602.735.1733.