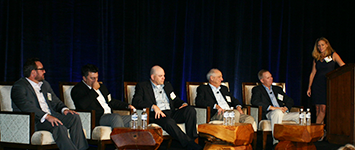 Answers from the Panel of Land Experts
Continued housing development in Pima County is inevitable, and it can be done in a way that strikes a balance between supply and demand. Economic and planning questions were posed to a panel of land developers and builders at The 2014 Tucson Land and Housing Forecast Meeting held September 25.
The event was part of a larger proactive discussion on the future of land development in Pima County. That's why Land Advisors Organization, Will White of Tucson and Bright Future Real Estate Research's, Ginger Kneup, held a panel discussion.
Participants were Ryan Huffman, VP of Land Acquisition and Development, Mattamy Homes' Arizona Division; David Mehl, Owner and President, Cottonwood Properties; Michael Iles-Cremieux, Regional VP of Land Acquisitions, Meritage Homes; Sean Walters, Chief Operating Officer, Sunbelt Holdings; and Taber Anderson, Prinicpal Chief Investment Officer, True Life Communities. Linda Morales, Principal and COO and Michael Grassinger of The Planning Center in Tucson were moderators of the event.
Mehl started by talking about the premium gap, the resale market is lower than home builders would like, something that would easily be fixed with some job growth. It's the lack of jobs that continues to hold back growth.
Iles-Cremieux agreed the market for first-time home buyers is soft. Meritage is active in 10 communities in the area, 5 along Tangerine Road will be closing out within the next 6-12 months. Second time move-up buyers in Tucson has been better, and builders need to be market driven.
Huffman said Mattamy Homes continues to eye the southeast, Vail School District while working in Dove Mountain in Marana for 180 lots for Q1 2015 and Rancho Vistoso in Oro Valley for 300 lots for sales in Q1 2016.
Walters talked about the many opportunities Sunbelt sees in Tucson. The master planned community La Estancia is an infill piece and purchased half platted. Sunbelt continues to add infrastructure and plans to be ready for home builders when needed.
The challenges for land developers and home builders are different today than they were ten years ago. It's a challenge selling that price differential and dealing with growing federal regulations makes lead time to product delivery virtually unknown.
Anderson spoke about buyers being seasonal and from the supply side, it's time to buy when buyers aren't. True Life had looked at the Rancho Vistoso 'donut hole' for some time before assembling 200 acres for $13.6 million. Expect more joint ventures to happen between builders as a result of the challenges being faced.
For years the Tucson's local home building management has been going to Phoenix to work. Now that Phoenix permits are down by 16% year-to-date, we may see this trend reversing. Looking at submarket changes, each submarket has its own nuances, from platted to finished lots. As home builders look to take smaller bites, we could see partnerships between builders spread the risk and continue to be proactive. Instead of one builder for 250 lots, it may be 2-3 home builders partnering to close a larger deal.
The keys discussed were for builders to have a diverse, strategic and innovative product line. As for location, "know your buyer". It was agreed by the panelists that demand could quickly outstrip supply.
It may feel bad now, but the larger risk is missing the up-side in the market. Everyone on the panel was bullish on the market and advocated cooperation among the builders and developers.
Local developer, Cottonwood's David Mehl, reminded attendees that it was considered speculative when he bought land now known as Dove Mountain. Nothing great has even been accomplished without some risk.
"The coming years offer tremendous opportunity for home builders and developers," Ginger Kneup said, "to work together to deliver homes that will increase new home demand across all price ranges – from entry-level through the second move-up segment."
Will White summarized the event, saying "We all know where the supply hurdles are and we know how high we have to jump to clear them. The path of growth is inevitable; we just need to be proactive in the supply process if demands are to be met."
To read Part 1 of this report go to https://realestatedaily-news.com/state-tucson-land-housing-market-part-1/