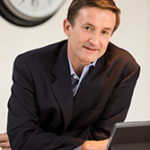 SCOTTSDALE– Stephen Hulston has joined NOVO Development of Scottsdale Arizona and will oversee the company's cost estimating, pre-construction and development activities.
Hulston brings almost three decades of construction experience to NOVO having most recently served as Vice President/Business Unit Leader for Balfour Beatty Construction. He managed Arizona operations for the construction company, including all financial, design, construction and human resources functions.  Hulston was an executive with Howard S. Wright Construction, which was acquired by Balfour Beatty in 2011.  During his tenure, Hulston has overseen more than $1 billion in construction projects in Arizona.
"The addition of Stephen provides an unbelievable opportunity for NOVO to advance our goals in the development arena," said Kurt Rosene, founder of NOVO.  "Stephen's tremendous knowledge base and experience in the construction industry, as well as his impressive relationships in the field, will help us realize the company's development plans.  We are fortunate to have attracted someone of his caliber."
NOVO Development, LLC is a commercial real estate development company headquartered at Gainey Ranch Financial Center.  The company develops a wide variety of commercial real estate projects ranging from office and industrial to multi-family.  The company, while headquartered in Metro Phoenix, pursues projects throughout the nation.  If you would like to learn more about NOVO Development, call (480) 275-7650.