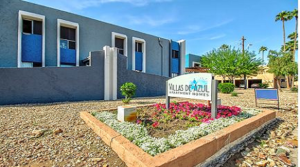 Sterling Continues to expand in Phoenix, Acquires 301-unit apartment project, Villas De Azul Apartments
Phoenix, AZ –Sterling Real Estate Partners continues to expand in Phoenix, Arizona and has acquired the 301-unit Villas de Azul Apartments. Sterling has acquired over $100M in three transactions this year.
Villas de Azul was built in 1972 and consists of 32, two-story buildings on 17 acres with a park-like setting that includes spacious courtyards and mature landscaping. Other community amenities include three swimming pools, a playground, two basketball courts, resident clubhouse and three laundry facilities.
"Villas de Azul is a unique investment opportunity to acquire an asset significantly below replacement cost in a central workforce housing location," said David Zeff, Sterling Principal. "We look forward to initiating our business plan, enhancing the property, and bringing value to the area."
Sterling plans to reposition the asset by adding new family friendly amenities, implementing 'green' initiatives, enhancing site curb appeal with new landscaping, and correcting deferred maintenance. Significant value-add opportunities are also available through improving current property operations and capitalizing on the high number of three-bedroom units at the property, which the neighboring properties lack.
"We are excited to maximize the project's potential and Villas de Azul will be a showcase for the Sterling team's core business strategy," said Michael Barker, Sterling principal. "The property will benefit from the strong population growth in the Phoenix MSA."
Phoenix is the fastest-growing city in the country, according to newly released estimates from the U.S. Census Bureau. Phoenix welcomed 25,288 new residents between 2017 and 2018. Phoenix remains the fifth most-populous city with a population of 1,660,272, according to Census data.