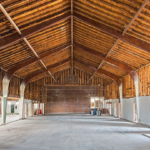 Redevelopment includes fully flexible plans for office, retail or restaurant spaces available for lease now
SCOTTSDALE, AZ – Structured Real Estate is redeveloping the former church located at 3080 North Civic Center Plaza in Old Town Scottsdale, Arizona. The building, built in 1958, served as a place of worship until it was repurposed as an office building in the early 1980's. Since then the building has fallen into disrepair and has been vacant for the last few years.
The building, which is now being called "Meetinghouse at 3080" is a unique opportunity as it represents a rare project type in Scottsdale.
Steve Doyle, Principal of Structured Real Estate, became interested in the property in late 2015. He envisioned it as a multi-use facility with a mix of office, relaxed/rustic café or restaurant space. Doyle noted that over the past few years Scottsdale has become a sought after location for startups that want a creative space to fit their brand.
Meetinghouse boasts a unique set of characteristics including high ceilings with exposed structure, a clock tower, stained glass windows, and the possibility for mezzanines that are ideal for a company looking for an innovative workspace.
The entire building is fully flexible to fit the needs of the occupants. SREA is open to the possibility of leasing the building to anywhere from one tenant up to five tenants. Structured has several interested users that have already toured the building. To learn more about the building and see available spaces, visit meetinghouse3080.com
Structured Real Estate is a creative commercial real estate developer specializing in adaptive reuse & ground up development. Our focus is sports medicine, healthcare, office, multi-use and more. Based in Chicago, taking on projects across the nation.