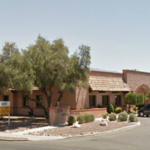 Because of the changing nature of office demand, we expect the overall office demand growth to be more muted than past cycles. Nevertheless, certain high quality assets continue to be characterized by long-term rent growth potential and asset-level characteristics such as location, quality, transit access, and amenities have become more important than ever in the Tucson office market. Building-specific characteristics are more critical today than ever.
The following three central Tucson office sales represent an aggregate of 20,009-square-feet and $2.572 million.
The central Tucson office building at 3320 N Campbell Avenue in Tucson sold for $1.45 million ($156 PSF). A 9,312-square-foot, class B building located north of Fort Lowell on Campbell Avenue, was constructed of adobe brick in 1982. The buyer, AM Campbell LLC of Tucson (Alan Miklofsky) purchased it to owner occupy 4,950-square-feet while continuing to lease the remainder to Peto & Company CPA firm and Dr. Alexa Carrara, DDS of Campbell Dental Group.
Roger Breckenridge with Long Realty Company in Tucson represented the seller, Matthew Rabb Trustee for Lloyd Rabb Family Trust and J. Patrick Butler and Debbie L. Goodman of Tucson. The buyer was represented by Michael Miklofsky of Real Estate Marketing Professionals of Tucson.
To learn more Breckenridge should be contacted at 520.918.5813 and Miklofsky can be reached at 520.721.1478.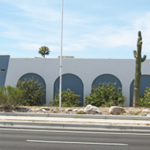 A vacant, former medical clinic at 3402 E Broadway Blvd in central Tucson sold for $886,900 ($161 PSF) to a local investment group, Broadway Property 3402 LLC (Mena and Jeffrey Latas, members). The freestanding class B, 5,510-square-foot building is located across from the El Con Mall between Country Club and Alvernon Way on Broadway Boulevard. Build in 1992, the property is divisible and sold with excess land for parking or building expansion. Concentra Urgent Care last occupied the building before moving to 7119 E Broadway Blvd. in Tucson.
The seller, Cornerstone Investment Company of Tucson (Craig Courtney, director) has owned the property since 1994 and is also a licensed real estate broker in Arizona dba Courtney Realty and Investment. The buyer was represented by Doug Marsh and Lori Casey of Oxford Realty Advisors, who are also handling the leasing.
To learn more Courtney can be reached at 520.293.8280 and Marsh and Casey should be contacted at 520.232.0200. See also RED Comp #2544 for additional information.
Wildcat Equities II and DBR Investment Properties LLC of Tucson (Brandon Matheson, member) purchased the office building at 3816 E 5th Street in central Tucson for $235,000 ($45.30 PSF). The 5,187-square-feet in four buildings was constructed circa 1966 and 1967 and includes a 1,394-square-feet single family residence that was rented at time of sale. The remaining 3,168-square-feet was built out as dental office space, vacant, available for lease.
Brandon Rodgers, CCIM, Industrial Specialist with Cushman & Wakefield | Picor in Tucson, is a partner in buying entities and represented the buyers in the transaction, while Angelica Quintana with Keller Williams Southern Arizona represented the seller, Palo Verde Enterprises Inc. (Norman Don, president). Rodgers is handling the leasing of property.
To learn more Quintana can be contacted at 520.615.8400 and Rodgers should be reached at 520.546.2714. For additional information see RED Comp #2714.