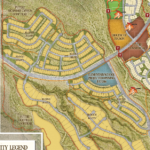 Sunbelt Holdings (Bob Bambauer, Vice-President) bought 401 platted and engineered lots in Sycamore Canyon Phase II for $3.3 million ($8,229 per lot). Nestled near the base of the Santa Rita Mountains, Sycamore Canyon is a remarkable master-planned community offering a perfect blend of solitude, natural beauty, and convenience in the Vail School District. The 401-lots consists of (150) 70 ft., (87) 80 ft. lots and the balance ranging from 10,000-square-feet to under half acre estate lots located in southeast Tucson, west of Houghton Road and south of Sahuarita Road at Harrison.
The seller and developer, PSP Ventures LLC, an affiliate The Remington Group of Tucson (Jamie Argueta, manager) donated approximately a 5.5 acre site, at the end of Sycamore Canyon Road, to the Vail School District for construction of a new K thru 5 elementary school that is scheduled to break ground this September for a 2016 opening.
One of the distinguishing characteristics of the Vail School District is the positive relationship that exists between the school district and its surrounding community. Local businesses, government officials, and non-profit organizations often step to the plate with assistance.
The Remington Group will continue to maintain the Sycamore Canyon Conservation Foundation committed to the conservation, protection and appreciation of the Sycamore Canyon Preserve's 1,100 acres of natural open space. Under the stewardship of the Foundation, residents are assured that the land will never be modified, changed or infringed upon.
The Sycamore Canyon HOA and Southwest Regional Water for the project will also stay in the charge of the seller.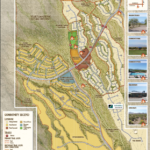 Sycamore Canyon already consists of several diverse neighborhoods, each with a distinctive character of its own. At the heart is the Village Center. It offers areas for active recreation, walking, and public gatherings, and features higher-density residential housing. Flowing outward are the Rural Residential neighborhoods, followed by the spacious Village Estates.
Three home builders have been active in Sycamore Canyon, Richmond American, Sombra Homes and Pepper Viner offer a variety of homes within the Sycamore Canyon Phase I portion of the community, with architectural themes that reflect the region's heritage of Spanish, Mission and Southwestern traditions.
To foster a feeling of community, there are bike paths and pedestrian walkways following quiet, tree-lined neighborhood streets. Peaceful trails and pathways meander through the abundant open spaces. Trails are also planned accordingly from new home site in Sycamore Canyon II to the new school.
To learn more see RED Comp #3126 and #2359.