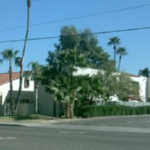 PHOENIX, AZ – Sunshine Terrace Apartments, located at 5615 N. 7th St. in North Central Phoenix sold for $4 million.
The property, which was built in 1972, contains 74 apartment units and was 98 percent occupied at the time of the sale.
Rosalia and Pavel Cret of Phoenix sold the property to Deco Communities of Scottsdale, AZ.  The sale price brought $54,054 per unit, which equates to $96.53 per square foot.
"The area surrounding Sunshine Terrace continues to improve with various redevelopment projects, and Deco Communities' commitment to additional investment in the property will be greatly beneficial as well," said Brett Polachek.
Polachek and Jim Crews of Cushman & Wakefield represented the sellers in the transaction.
Polachek and Crews should be reached at (602) 253-7900 for more information.