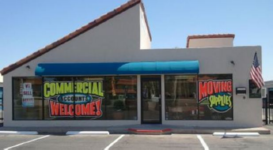 The sale of Sure Lock Mini Storage was recently recorded in Maricopa County, Arizona. The property was built in 1985 and consisted of 645 units in approximately 76,200-square-feet. The location of the property is 8780 W. Bell Rd., in Peoria, Arizona. The property sold to a limited liability company controlled by Business Property Trust of Portland, Oregon. The seller was New River Development Company LLP from Wichita, Kansas. The sales price was $4,300,000, which equates to $56.50 per square foot. The building was 70% occupied at closing.
Bill Alter and Denise Nunez handled the transaction on behalf of both parties. The Alter Nunez Team specializes in storage facility sales and this represents their 129th successful closing.
Founded in 1993 and celebrating our 20th anniversary, Rein & Grossoehme specializes in the sale of investment properties and retail, office and industrial leasing.
Alter and Nunez can be reached at (480) 214-9400.