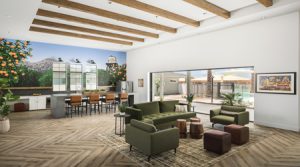 Scottsdale, Ariz., September 27, 2023 – Mark-Taylor Residential proudly presents Peralta Vista under the ownership of Isola Communities. Comprised of brand-new, ENERGY STAR-certified detached rental homes, sustainable luxury living is at the heart of this Mesa development.
Located at 526 N Ellsworth Rd., Peralta Vista integrates cutting-edge solutions to ensure optimal energy performance – resulting in cost savings for residents and low environmental impact. The community has an array of floor plans featuring open one- and traditional one- and two-bedroom single-family homes.
True to Peralta Vista's eco-conscious mindset, each home is thoughtfully built with HercuWall™, a revolutionary wall system that delivers superior strength, sustainability, and fire resistance. This innovation contributes to a host of resident benefits, including:
Enhanced privacy and in-home noise reduction
Up to 40% energy cost savings
Beyond energy efficiency, residents will enjoy many premium extras, including EV chargers onsite and in garages, smart home technology, and gas-burning ranges.
"Our smart home technology packages offer a highly desired blend of automation and practicality — leading to everyday savings and a more streamlined lifestyle for all," says Associate Managing Director of Multifamily Investments at Mark-Taylor, Jillian Cordova.
Surrounded by breathtaking views of the Superstition Mountains and near Red Mountain Park, this community provides access to the best of East Valley living.
Setting a new standard for sustainable living and refined luxury, see more of Peralta Vista of Isola Communities by visiting https://www.mark-taylor.com/apartments/az/mesa/peralta-vista/.