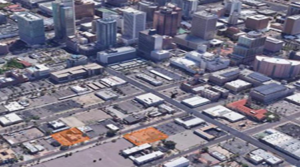 Phoenix, Arizona – Downtown Phoenix has been a trending and thriving commercial real estate market for over the last several months for SVN Desert Commercial Advisors who have closed over two dozen properties in the downtown Phoenix area over the last couple of years.  For advisors, Justin Horwitz and Paul Borgesen III, the land sale off 4th Ave just north of Van Buren marks a celebratory 10th sale in the downtown Phoenix area in 2019 alone.
The SVN advisors have been recognized for their expert knowledge in the DT Phx submarkets, closing on several properties around the Roosevelt Row Arts District, notoriously recognized for their advocacy in arts, community culture, and artists who cultivate arts experience.  Surrounded by the trending retail and restaurant industry that is being revitalized downtown, the advisors have their hands invested into the economic development still growing today.
The land owner, 4th Ave. Dev. 1 LLC sold to Rastegar Property Company (RPC N 4th, LLC) out of Austin, Texas.  They make its entry into the downtown Phoenix market with its acquisition of a ±0.62 site on 4th Ave. between Fillmore and Van Buren.  The property address from 326 – 338 N. 4th Avenue sold for $2,310,000 or $86.06/Land SF.  Justin Horwitz stated, "We are extremely excited about the plans for this site.  Roosevelt Row has been capturing a lot of attention in the downtown submarket, but this particular pocket west of Central Ave. along Van Buren is really starting to gain momentum."
Rastegar is still in the early stages of the design process, but preliminary plans call for a large scale mixed used development consisting of high-end residential apartments along with ground floor retail amenities.  SVN advisors represented the seller, Glasir Capital Partners (4th Ave Dev 1, LLC) in the disposition of this first of two development sites in this corridor.  The second site is still remaining for sale situated just across the street from the subject property. This ±0.52 AC parcel is still available for $1,965,720 ($88/Land SF).
Horwitz said, "This planned development by Rastegar along with the others in the immediate area will offer yet another unique experience in downtown Phoenix."  Both sites are located in a highly desirable area and Opportunity Zone and offer "DTC" zoning with highly flexible entitlements for an upscale high rise development to complement the surrounding area.