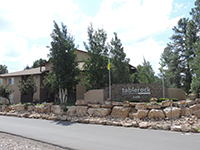 FLAGSTAFF, AZ – Cushman & Wakefield of Arizona, Inc. has negotiated the $14.35 million sale of Table Rock Apartments, located at 3400 S. Lake Mary Road i Flagstaff, AZ.
The property, which was built in 1998, contains 100 apartment units in five buildings and was 98 percent occupied at the time of the sale.
Virtu Investments of Carlsbad, Calif. sold the property to Red Rock Investment Management of Venice, Calif. The sale price brought $143,500 per unit, which equates to $139 per square foot.
"A student-oriented property with strong operations and proven rent increases, Table Rock Apartments are one mile from the Northern Arizona University campus," said Jim Crews, Senior Director with the Multifamily Property Group at Cushman and Wakefield. "The property features an interior value-add opportunity."
Crews and Brett Polachek of Cushman & Wakefield represented the seller in the transaction.
To learn more please contact Crews and Polachek at 602.253.7900.