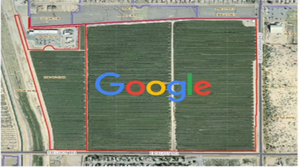 MESA, Arizona — Technology giant Google is coming to Mesa, lured by a tax incentive agreement to build a massive data center in the emerging Elliot Road Technology Corridor.
Monday evening, The Mesa City Council voted to approve an agreement giving Google the go-ahead to build on a data center within five years.
Negotiations were on a development agreement for the 186 acres at Elliot and Sossaman roads. City staff recommended approval of the agreement on the $1 billion, three-phase, 750,000-square-foot Red Hawk project. The sides had been engaged in deep negotiations for the past year.
The East Valley city already is home to Apple, AT&T and Boeing, which are all in top  50 of Fortune magazine's ratings.
The parcel, owned by the longtime Gilbert-area ranching and dairy Morrison family, was rezoned in April to allow for use by a data center.
Salary projections of full-time employees was a minimum of $65,000. Jobs at the site were expected to includes systems administrators, technicians, facilities works and support, some from outside sources.
The "GPLET,'' or Government Property Lease Excise Tax, would be in effect for 25 years approved by the council.
The city would be the deed holder for those years and get back more than $30 million of indirect taxes, as opposed to nearly $49 million if Google were to build the data center without the tax incentive.
Google could take up to 10 years to finish construction.