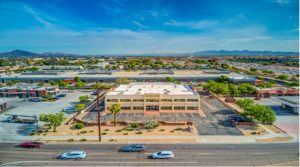 TEMPE, AZ (November 2, 2023) -- Nick Miner, CCIM of ORION Investment Real Estate, reports selling a highly sought-after industrial building in Tempe, Arizona for $3,530,000.00, or $167-per-square-foot.
Tempe, Arizona is situated in the heart of Maricopa County. Tempe is a top technology center in Arizona and a leading choice for major corporations. Major city initiatives focus on transportation, accessibility, sustainability, quality of life, open data, performance metrics, and inclusivity. Tempe maintains one of the most thriving economic environments in the country. Top research firms, Fortune 500 companies and start-ups all find what they need to start, grow and thrive in Tempe.
Nick Miner, CCIM, Senior Vice President at ORION commented, "I helped my client purchase this in 2021. His business model changed and we pivoted and put this on the market for sale." Miner continued, "We had multiple offers and selected the buyer that agreed to our sales terms."
This is the second property Miner has sold for this seller this year.
Seller, Fox Headquarters, LLC, was represented by Miner of ORION Investment Real Estate.
Buyer, 4505 Broadway, LLC, was represented by John Stroud of Matthews Real Estate.