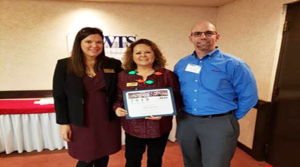 TEMPE, ARIZONA – The Tucson office of consulting engineering firm Terracon was named 2018 Advancing Women in Transportation (WTS) Employer of the Year, Tucson Chapter.
Each year WTS/Tucson honors firms with its Outstanding Recognition Awards. Terracon's Tucson office was honored for its strong ties to the transportation industry and its dedication to WTS and other professional organizations in the community.
"We are honored and humbled to have received this award," said Derek Koller, Terracon's Tucson Office Manager. "As an office, we have several employees who serve and participate with local non-profits and organizations as board members and in other capacities. We are proud of our collective efforts in the community."
Criteria met for garnering WTS recognition:
An organization that has enhanced the transportation industry;
An organization with an outstanding record of hiring and promoting at all employment levels;
An organization that encourages students, especially women to enter the transportation field by providing scholarships, grants and/or internship opportunities;
An organization that supports WTS.
"It's an honor for our office to receive this recognition and award," said Bianca Rivera, Administrative Manager I Corporate Service Representative, in Terracon's Tucson office. "We are fortunate to work for Terracon, an amazing company that encourages our involvement within our community. I'm also honored to be a part of the WTS Tucson Chapter."
Terracon is an employee-owned consulting engineering firm with more than 4,000 employees providing environmental, facilities, geotechnical, and materials services from more than 140 offices with services available in all 50 states.
Terracon currently ranks 24th on the Engineering News-Record list of Top 500 Design Firms and is ranked No. 1 in Asbestos and Lead Abatement Design.
To learn more about Terracon visit terracon.com/offices/tucson/