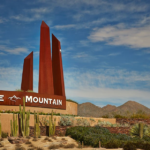 It was just a week or so ago, we were reporting on the perfect storm for homebuilders at Dove Mountain in Northwest Tucson, and now we have the highest land sale year-to-date to report from there. Texas-based, Forestar (USA) Real Estate Group (Bruce Dickson, chief real estate officer) closed on 98-platted lots at Boulder Bridge Pass II at Dove Mountain for approximately $5.9 million ($59,732 per lot). Click here for prior story from March 10.
Forestar (NYSE:FOR) is headquartered in Austin, Texas and manages three market segments: Real Estate, Oil and Gas, and Other Natural Resources. The Real Estate segment engages in the acquisition, entitlement, development, and sale of real estate; primarily residential and mixed-use communities and represents about 70% of the company's business. Forestar sells residential lots primarily to homebuilders; and undeveloped land through its retail sales programs, as well as operates income producing properties, such as a hotel and multifamily properties.
Since 1955, Forestar has been selling quality land in Georgia, Texas and across the Southeast. This segment owns, directly or through ventures, approximately 113,000-acres of real estate located in 10 states and 13 markets in the United States; has 11 real estate projects currently representing approximately 24,000-acres in the entitlement process, as well as 75 entitled, developed, or under development projects in 10 states and 13 markets encompassing approximately 12,000-acres. This is the company's first entry into Arizona that we could find through a public record search.
Boulder Bridge Pass II is at the northwest corner of Dove Mountain Boulevard and Boulder Bridge Pass. The 98 lots average 9,288-square-feet and are on about 40.3 acres with open space.
Forestar and Dove Mountain share a commitment to developing communities that provide balanced solutions through social, environmental and economic sustainability. Through a balanced solutions approach, Forestar likes to integrate green spaces and open areas into its communities, integrate water and energy saving features, and strive to conserve the natural beauty of surrounding areas.
Will White and John Carroll with Land Advisors Organization in Tucson handled the transaction for buyer and seller, Cottonwood Properties, Inc. (David Mehl, president) through its affiliates, DM Phase IV Investment, LLC and Dove Mountain Investors, LLC
White told us Forestar must have been attracted to the extraordinary natural beauty of Dove Mountain, where social, environmental and economic sustainability is part of everyday business. "We are excited to have Forestar join Dove Mountain and hope this to be the start of a long-standing, successful relationship for them in Southern Arizona," White said.
To learn more White and Carroll should be contacted at 520.514.7454 or see RED Comp #2734 for additional information.