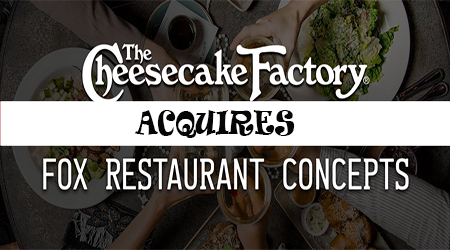 CALABASAS HILLS, Calif.– The Cheesecake Factory Incorporated (NASDAQ: CAKE) announced last week that it has closed the acquisitions of North Italia and Fox Restaurant Concepts ("FRC"), including Flower Child.
The transactions were completed for $308 million in consideration at closing, including $12 million earmarked for customary post-closing adjustments. An additional $45 million will be due ratably over the next four years, and the FRC transaction also includes an earn-out provision based on the financial performance of the FRC brands outside of North Italia and Flower Child. The Company previously invested $88 million in the North Italia and Flower Child concepts over the last three years in anticipation of their purchase.
North Italia turns a modern lens on Italian cooking in the upscale, casual-dining segment. All dishes are handmade from scratch daily. The concept currently has 21 locations in ten states and Washington D.C. North Italia's operations will be located at The Cheesecake Factory Incorporated's corporate headquarters in Calabasas Hills, California to help scale the concept nationally.
FRC was founded by Sam Fox, a 10-time James Beard Award semifinalist for Restaurateur of the Year, New York Times best-selling cookbook author and recently named one of the 50 most influential people in the restaurant industry by Nation's Restaurant News for the fifth consecutive year. FRC currently operates 47 restaurants across 8 states and Washington D.C. Each restaurant is individually designed to provide guests with a one-of-a-kind dining experience that will leave a lasting impression. FRC will operate as an independent subsidiary and continue to be led by Fox from FRC's headquarters in Phoenix, Arizona.
"Since making our initial minority investments in North Italia and Flower Child in 2016, we have not only helped fuel the growth of both brands, but also developed a deep relationship with Sam Fox at Fox Restaurant Concepts," said David Overton, Chairman and Chief Executive Officer of The Cheesecake Factory Incorporated. "We realized the true potential of this relationship as we worked through the integration process for our planned acquisition of North Italia. It became evident that the combination of two of the most experiential and entrepreneurial restaurant companies could drive greater value as one organization."
The Cheesecake Factory Incorporated currently owns and operatea 288 restaurants throughout the United States and Canada under brands including The Cheesecake Factory®, North Italia® and a collection within the Fox Restaurant Concepts subsidiary. Internationally, 23 The Cheesecake Factory® restaurants operate under licensing agreements. Its bakery division operates two facilities that produce quality cheesecakes and other baked products for restaurants, international licensees and third-party bakery customers. In 2019, it was named to the FORTUNE Magazine "100 Best Companies to Work For®" list for the sixth consecutive year.