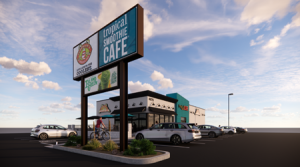 TUCSON, AZ (October 12, 2023) The former Dunkin' Donuts building at the southwest corner of Grant and Swan will soon be converted into the first-ever, dual-concept, Jeremiah's Italian Ice and Tropical Smoothie cafe. The property sold September 29, 2023 for $1.7 million ($758 PSF).
Tropical Smoothie cafe is approaching 1,300 locations nationwide, with three locations in Tucson and several more on the way. Jeremiah's Italian Ice already has one location in Cottonwood Plaza at Oracle and Ina, with a second opening soon at Twin Peaks and Silverbell. Its Italian ice is as refreshing as decadent, with flavors spanning from every day to the exquisite and the eccentric. Jeremiah's Italian Ice has around 400 locations nationwide.
Jeramy Price and Eddy Yunkherr of KJE Steampump will handle the re-development of 4676 E Grant Road. The former Dunkin Donuts is 2,244 square feet on .44 acres, with a drive-thru, completed in 1979 and was later updated. It has been closed since March 2023.
"We are really excitement about this first-ever dual-concept," said Price.  "Although the idea of dual concepts is not new, it is becoming an increasingly popular way to introduce multiple concepts. Each has decidedly different vibes and complimentary menus. The dual-concept of a Tropical Smoothie café and Jeremiah Italian Ice seem like a perfect fit in this perfect location."
Rick Borane of VOLK Company handled the transaction for the seller, Ram Holdings, LLC of Tucson, and the buyer, KJE Steampump.
For more information, Borane can be reached at 520.495.2240, and Price should be contacted at 520.441.4771.