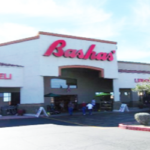 Scottsdale, Arizona — Churchill Commercial Capital, Inc. (Cynthia Hammond, president) announces two loan closings totaling $13.5 million on Sun City West Plaza and Southgate Center, both neighborhood shopping centers anchored by Food City or Bashas' grocery stores.
Sun City West Plaza is a 62,270-square-foot center 100% leased with a Bashas' anchor.  Churchill arranged a non-recourse, high leverage, borrower friendly loan with a life insurance company lender and Abart Properties Corporation as borrower. As a correspondent for this life company, Churchill will service the loan.  This center enjoys an infill location within the heart of Sun City West at W. Meeker and RH Johnson Blvd.. The strength of the borrower, tenancy and local market allowed the lender to approve a loan despite a relatively short remaining term on the grocer's lease, and new tenancy not yet in occupancy.
Southgate Center is a 98,000-square-foot Food City anchored neighborhood center located one block north of S. Central Ave. and Baseline Rd.  The Hinkson Company acquired this center with significant vacancy, completed a total remodel of the property concurrent with Food City completing a renovation of their store, and signed several new leases. Churchill arranged bank financing with limited recourse allowing a partial return of capital.
Churchill Commercial Capital is an Arizona based commercial mortgage banker actively arranging loans and joint venture equity for commercial and multifamily properties.  Established in 1994, Churchill's lending relationships include major life insurance companies, multifamily agency lenders, specialty finance companies who make bridge loans, investment banks originating loans destined for securitization, and select banks making portfolio loans.   Churchill locally services loans on behalf of its correspondent lenders.