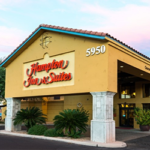 TUCSON, Arizona – HSL Properties (Omar Mireles, president) of Tucson acquired the 109-room Hampton Inn & Suites at 5950 N Oracle Road and the 76-guestroom TownPlace Suites by Marriott at 5900 N Oracle Road in Tucson for an aggregate price of $12.06 million ($65,189 per room) at auction.
The seller, Miami Florida- based, LNR Partners, was the loan servicer and acquired these and La Posada Lodge & Casitas at 405 W Rudasill Road in 2012. La Posada sold for $2.52 million ($35,000 per room) for the 72-rooms at the same auction.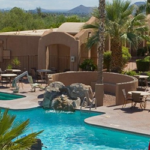 Bill Murney with Hospitality Real Estate Counselors (HREC) of Phoenix represented the seller in the transactions.
"Located in the high-end Northwest Tucson submarket, all three properties are in excellent condition having completed $6 million of capital improvements in 2014 by the seller," Murney said. "The Hotels' highly visible location on North Oracle Road is in a high-barriers to entry area of Tucson, provides easy access to the demand generators in Northwest Tucson as well as great accessibility to the high end shopping and dining amenities of the area."
The Tucson Mall, situated less than 2 miles from the Hotels, is the largest shopping center in Tucson, and offers over 1.3 million-square-feet of retail space. The Hotels also significantly benefit from demand generators such as the University of Arizona, the U of A Medical Center, Asarco, and Ventana Medical Systems, as well as their proximity to major attractions such as the Saguaro National Park, Santa Catalina Mountains and Downtown Tucson.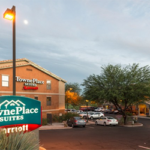 HSL preferred the branded hotels for HSL's Portfolio, now with eight hotels and over 1,100 rooms. Other HSL hotels include The Ritz-Carlton Dove Mountain, Hilton Tucson El Conquistador Resort, The Doubletree Suites by Hilton, Best Western Plus Tucson Airport, and La Quinta Inn & Suites – Reid Park Hotel and Casa San Sebastian in Puerto Vallarta, Mexico.
The buyer of La Posada Lodge & Casitas, Robert Albright, Jr. of Tucson, didn't mind the hotel not being branded for his first hotel venture.
Murney reported that Tucson is a major beneficiary of market compression in Phoenix, which has assisted in Tucson's recent strong upswing in its lodging market fundamentals. During the YTD 2016 period, each of Tucson's defined submarkets have outperformed their 2015 YTD performance by more than 10%. Furthermore, the Tucson Northwest tract, where these Hotels are located, has seen RevPAR growth of over 6% during the previous 12-month period.
For more information, Murney should be reached at 602.732.4777.
To learn more, login and see RED Comps #4580, #4581 and #4596.