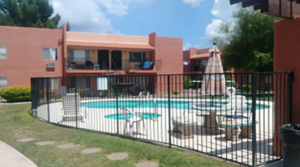 TUCSON, ARIZONA, Nov. 22,2022 -- Equilibrium Cordova Village LLC, an affiliate of Equilibrium Funding Managers of Tucson,  purchased Tierra Alegre Apartments, at 3355 E. Fort Lowell Rd., in Tucson. The 72-unit apartment property was purchased from Ryder Family Real Estate LLC of Los Alamitos, CA for $8.5 million ($118,055 per unit).
The transaction closed on November 15, 2022.
The 37,684-square-foot investment property, built in 1982, with four 2- story buildings, has a unit mix of studio/1BA (400sf), 1BR/1BA (475sf), 2BR/1Ba (700sf) and amenities include laundry, pool and spa.
Allan Mendelsberg, Principal, and Joey Martinez, Multifamily Specialists with Cushman & Wakefield | PICOR, represented both parties in this transaction.
For more information, Mendelsberg can be contacted at 520.546.2721 and Martinez should be reached at 520.546.2730.
To learn  more, see RED Comp #10310.