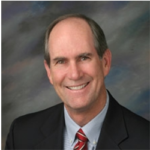 Tom McGovern is Vice President and Regional Manager of Psomas, a leading consulting firm offering professional services in civil engineering, water resources, transportation planning and engineering, traffic engineering, environmental, land planning, construction management, and land surveying. In 1985 he co-founded the Tucson engineering firm of McGovern, MacVittie, Lodge & Associates (MMLA), taking it through its merger with Psomas in 2004. He is a Principal in the firm and has served on the Psomas Board of Directors.
Tom is also a member of the Southern Arizona Leadership Council (SALC) Board and co-Chair of its Infrastructure Focus Area, has been actively involved in both the community and his profession. He is currently Vice Chair of the Tucson Metro Chamber of Commerce Board of Directors. He was chair of the Pima Association of Government's (PAG) 2030 Regional Transportation Plan Update Task Force. He then served on the Citizens Advisory Committee for the Regional Transportation Authority, during the successful campaign to enact Pima County's regional sales tax for transportation.
His work on regional transportation issues was recognized by the PAG Governing Board when they presented him with the inaugural Thomas L. Swanson Regional Leadership Award in 2004. Currently, Tom is Vice Chair of PAG's Economic Vitality Advisory Committee.
The following are Tom McGovern's comments on the 30% Plan for Broadway Widening prepared for last Tuesday's Mayor and Council Meeting:
Good Evening, Mr. Mayor and Members of the Council
My name is Tom McGovern, and I am a native Tucsonan and a transportation engineer who has closely followed the slow progress of this very important project for over two decades; however, I'm here tonight on behalf of the Tucson Metro Chamber, for whose Board of Directors I am the Immediate Past Chairman.
As you recall, the RTA Board voted in December of 2014 to reduce the final section of Broadway leading into Downtown to a six-lane arterial plan with the use of bus pullouts to the "maximum" extent possible.  At that time, the Chamber expressed concern about changing the voter approved RTA project, but we understood and supported the final decision. We are concerned that this final decision may not actually be final.
The City Design team has done an outstanding job of modifying the baseline design and developing the 30% design plan, just as you instructed it to do. It builds on the Citizen Task Force plan, but it includes numerous important enhancements. This design allows your December 2014 compromise from the voter-approved 8-lane plan to a six-lane design to actually be effective by ensuring that the roadway's intended Functionality can now be achieved.  By adding 11 of the needed 13 bus pullouts, the team has dramatically improved the efficiency and safety of all modes of travel while keeping to the CTF's vision of a narrower six-lane cross section.  Improving capacity and moving stopped buses out of through travel lanes does not just reduce congestion – it makes for a safer roadway for all, including pedestrians, bicyclists, transit riders and shoppers headed Downtown or to any point on the Sunshine Mile.
This design is a good compromise, and it is time for this project to get moving.  Decades of indecision have led to this stretch of Broadway becoming an eyesore and a postcard for urban neglect; it is time to resoundingly end that impression. The Broadway of today also does not fairly reflect the revitalization occurring downtown, and it serves as a sad gateway into our central business district.
To remove the design of the Broadway widening from the professional design team that has developed this outstanding 30% Plan and return its control to the CTF would have a disastrous effect on the sensible and timely completion of this important project. It would cause additional unnecessary delays to the project. Tell me honestly, does anyone truly believe that traffic on Tucson's premier arterial route, the gateway to a reborn downtown, in a city of a million people and still growing, will NOT INCREASE???  Finally, I could not disagree more with Bob Cook's warning that the RTA renewal would be jeopardized by your decision to move forward with the 30% plans – in fact, returning this project to the CTF for further downsizing runs the risk of completely breaking faith with the voters and making a renewal much more problematic.
On behalf of the Tucson Metro Chamber Board of Directors and membership, I ask that you SUPPORT the 30% design plan and move the project forward with all due haste.
Tom McGovern
This project is a Regional Transportation Authority Plan  roadway improvement managed by the City of Tucson that will widen Broadway: Euclid to Country Club to a 6-lane arterial, with bike lanes, sidewalks, and landscape.  The project is currently in the design phase.  Acquisition is to begin in 2016.  Construction is not anticipated until late 2017-2018.
Visit the project's Design and Construction web site at www.broadwayboulevard.info for the most current information, to find contact emails and phone numbers, and to provide comments.  Details about the RTA plan are available at www.RTAmobility.com.
It's not too late to be heard, questions and comments can be submitted to the Tucson Department of Transportation before April 15th. Take 1-2 minutes now and submit a quick "I support the Broadway 30% plan" by clicking on the following link: https://www.broadwayboulevard.info/comments.php