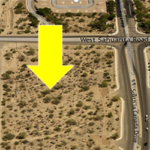 Grant gives green light to Sahuarita Advanced Manufacturing and Technology Center (SAMTEC)
SAHUARITA, ARIZONA — With a $3 million federal grant from the US Department of Commerce, the Town of Sahuarita is ready to proceed with development of an advanced manufacturing center.
U.S. Secretary of Commerce Wilbur Ross made the announcement Friday that the Department's Economic Development Administration (EDA) is investing $3 million in a grant to the town for development of the Sahuarita Advanced Manufacturing and Technology Center (SAMTEC), a multi-tenant facility that will provide flexible high-tech space to local businesses.
SAMTEC with allow Hydronalix, a maritime robotics company, and Control Vision, an optical sensor and control systems company, to expand their existing Sahuarita-area operations.
The town anticipates that SAMTEC will attract supply chain service providers in support of these resident companies. According to estimates, the project is expected to create 75 new jobs, retain 31 jobs and generate $500,000 in private investment.
Located at the southwest corner of La Canada Drive and Sahuarita Road, the town council voted in May to acquire the 3.76-acre parcel for $412,500 and committed $1.025 million in its fiscal 2018 budget for the facility. The EDA grant was needed to pay for the main bulk of SAMTEC's cost in addition to a $165,000 grant received from the Freeport McMoRan Foundation Green Valley/Sahuarita Community Investment Fund in September.
"The Trump Administration is committed to not only retaining jobs in this country, but also to taking action that creates new opportunities for Americans," said Secretary of Commerce Wilbur Ross in the announcement. "I look forward to seeing how the new Sahuarita Advanced Manufacturing and Technology Center will work to support local businesses."
Sahuarita is considered one of the fastest growing communities in Arizona. The 31.5-square-mile town, located 15 minutes south of Tucson, has seen a population increase of over 600 percent between 2000 and 2014, and projections show that by 2020 the town will house a retail trading area of more than 140,000 residents.
Mayor Tom Murphy notes that the project promises to put Sahuarita on the map through attracting new industries and employment opportunities for residents, thereby also making Sahuarita an even more attractive place for service industry businesses to locate and supply amenities for existing Sahuarita residents. "We're excited to move forward with this project," Murphy said. "It's the kind of thing that will help move things in a direction that will be pleasing to residents, and help make Sahuarita an even better place to live, find a career or start a business."
The project addresses the needs identified in Sahuarita's Blueprint for Economic Prosperity and Growth Strategic Plan, which recommends investing in current employment centers, generating jobs commensurate with skills and education of residents and diversifying Sahuarita's economy.
This project develops new flex-space for high technology companies and supports the diversification of the region's economy by advancing new opportunities in the manufacturing space.
Victor Gonzalez, the town's economic development director, said the award is the culmination of a 15-month process of talking with the EDA and crafting an application. The completed application was submitted at the end of October.
Ground breaking of SAMTEC is expected for year end or Q1 2018. The total cost of the facility is expected to be around $4.5 million.