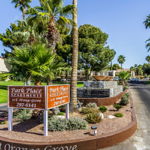 Two Tucson apartment sales of properties located within blocks of each other at Oracle and Orange Grove Roads, The Park Place Apartments and Casas Adobes Apartments closed within two days of each other in unrelated transactions.
California-Based, Prime Residential sold The Park Place Apartments at 11 East Orange Grove Road in Tucson for $28.8 million ($78,836 per unit). The 365-unit community is located at Oracle and Orange Grove in the Northwest submarket of Tucson.
The one- and two-bedroom community was built in 1973. Community amenities include a business center, clubhouse, fitness center, whirlpool/spa/ sauna, laundry facilities, two swimming pools, tennis courts, community lounge, sundecks, on-site property management and lots of parking. Corporate suites are also available and pet friendly.
Units include full-size washers and dryers, dishwashers, and private patios or balconies with views of the Santa Catalina mountains.
Art Wadlund and Clint Wadlund of Berkadia Real Estate Advisors in Tucson represented the seller in the transaction. The investor was Trans Western, Inc. (James Horvath, manager).
For additional information, Art Wadlund can be reached at 520.299.7200 and Clint Wadlund is at 520.529.9206.
To learn more, see RED Comp #3954.
The other northwest apartment community, Casas Adobes Apartments at 6200 N Oracle Road in Tucson was sold by Casas Adobes Partners V, LLC, a group of California investors, (Milton Mabry, manager) for $11.75 million ($57,598 per unit). The 204-unit gated community was completed in 1978 and sold as a value-add asset with a unit mix of studios, one- and two bedroom units in five floor plans.
Amenities include full sized kitchen appliances including dishwashers and a garbage disposal. Selected two bedroom apartments have been upgraded with new cabinets, flooring, appliances, lighting, and plumbing fixtures. Apartments also feature stacked 120v Washer & Dryer hookups, with machines available to rent and three on-site laundry facilities. Community amenities include two swimming pools and a spa, fitness center and patios and balconies with Catalina mountain views.
The investor is a Colorado group, GR Partners Casas Adobes, LLC and Greens Road Partnership, LLP.
Brett Polachek and Jim Crews from the Cushman & Wakefield Phoenix office and Allan Mendelsberg of Cushman & Wakefield | Picor handled the transaction.
Mendlesberg reported receiving nine offers on the property in the four weeks it was on the market. The buyer plans to do both interior and exterior renovations to the property.
For additional information, Mendelsberg should be contacted at 520.546.2721.
To learn more, see RED Comp #3949.