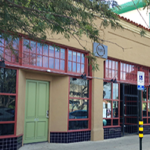 David Huckemeyer of Parker, CO bought the store front retail property at 414-416 E 9th Street in Tucson for $425,000 ($153 PSF). On Tucson's modern Streetcar route in historic business, restaurant and entertainment district, near the University of Arizona.
The 3,000-square-foot building with loft was vacant and a former theater, built 1926, on a 3,920-square-foot lot. It is located adjacent to the Historic Coronado Hotel Apartments, a 42-unit apartment building in Central Tucson that recently removed section 8 for conversion to student housing.
Huckemeyer we were told is also an owner in the Coronado Hotel Apartments conversion project and purchased the storefront for a potential wine bar.
Carbon Cabo, LLC of Huntington Beach, CA purchased the Coronado Apartments located at 402 E 9th Street in Tucson, from Coronado Apts. LLC of Tucson for $1.4 million ($37,838 per unit) in May 2015. The 42-unit property consists of an approximately 15,768-square-feet apartment building in three-stories, built 1928.
Tony Reed of Long Realty Company represented the seller, Thor Resources of Tucson (John Thornton, manager). Matt Bollinger and Johanna Roberts also with Long Realty Company of Tucson represented the buyer.
For more information, Reed can be reached at 520.577.7400 while Bollinger is at 520.886.7500 and Roberts can be called at 520.404.8352.
To learn more, see RED Comp #3623 and RED Comp #2958 for the Coronado Hotel Apartments sale.