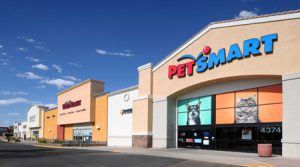 TUCSON, ARIZONA (November 17, 2023) – The inline shops at the Home Depot-anchored retail center at Oracle and Wetmore, sold for $25.5 million ($282 PSF). The transaction closed on November 14, 2023.
Located at the southeast corner of Oracle and Wetmore in Tucson, the 90,456-leasable-square-foot inline shops that sold was constructed in 2005 and was 98% occupied at the time of sale, with such tenants as PetSmart, World Market, JoAnn Fabrics and Crafts, and Ulta Beauty. The sale does not include the Home Depot.
The buyer, Acacia-Tucson, is a subsidiary of Acacia Real Estate Group in Newport Beach, CA (David Pittman, managing partner), and was self-represented in the transaction.
Acacia Real Estate Group is a developer of commercial real estate assets. With Acacia's unique blend of entrepreneurial experience, and its extensive network of real estate contacts and affiliations in the diverse Southern California area. Since starting Acacia Real Estate Group, Inc., the company has developed a number of significant projects throughout Southern California in excess of $100,000,000.00. The company has been consistently ranked, as compiled by the Orange County Business Journal, in the top echelon of developers active in commercial real estate market.
The seller, RJR Vacaville, LLC, from Miami, Florida (Robert Rivani, manager), was represented by Ryan Schubert, Michael Hackett, and Zach Aulick with Cushman & Wakefield in Phoenix. The Cushman & Wakefield Team also represented the seller when it was purchased in February, 2021 see Real Estate Daily News for prior transaction.
For more information, Schubert can be reached at 602.224.4472, Hacket at 602.224.449 and Aulick contacted at 602.224.4464.
To learn more, see RED Comp #10982.