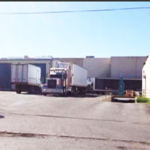 Chispas, LLC of Chandler, Arizona (Branden Sparks, manager) purchased an 18,550-square-foot industrial warehouse located at 850 and 860 East 17th Street in Tucson. The property was commanded a sale price of $840,000 ($45.28 PSF) from the Norman F Thomas and Mary Lucille Thomas Trust, and Alfred and Louise Thomas Family Trust.
The buyer, dba Aire Filter Products, is a leader in the air quality industry with over 50-years' experience meeting commercial, industrial and residential air quality needs. Buyer purchased to owner occupy the building.
Family owned and operated, with headquarters in Phoenix, the company has locations in Mesa,AZ; Los Angeles and San Diego, CA; Boise, ID; Albuquerque, NM; Salt Lake City, UT; Kent, WA and Tucson.
Stephen D. Cohen, Russell W. Hall, SIOR, GSCS, and Rob Zimmerman with Cushman & Wakefield | Picor represented the seller. Skylar Bennett with Menlo Group Commercial Real Estate in Mesa represented the buyer in the transaction.
For more information, Cohen, Hall and Zimmerman can be reached at 520.748.7100 and Bennett should be called at 480.659.1777.
To learn more, see RED Comp #4084.