The Tucson landmark, Caffin's Diner (James & Barbara Chaffin) at 902 East Broadway, Tucson AZ sold for $850,000 ($216 PSF) to WD Tucson RE, LLC dba Welcome Diner of Phoenix (Michael Babcock and Sloane McFarland, co-owners).
The Chaffin family had owned the diner, located at the gateway to downtown Tucson, since 2000, serving breakfast and lunch. They built a reputation for oversized portions of pancakes and omelettes that covered a plate, and smothered burritos big enough to feed two.
But on Dec. 15, it stopped serving both when the 15-year-old family-owned restaurant closed.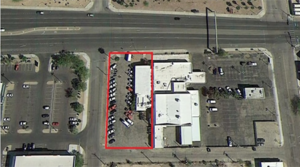 The new owners closed on the property a month later are expected to open their eatery after completing some extensive renovations over a 2-3 month period.
The building was built in 1964 and has been home to several restaurants since, including Sambo's in the 1970s and early '80s.
The Welcome Diner started its early life as the Hi–Way Diner on the Route 66 roadside of Winslow, Arizona. In 1979 Phoenician Robert Young moved the Hi-Way Diner to its current location of 10th Street and Roosevelt.
Never opened, it was renovated by artist and entrepreneur Sloane McFarland in 2002 and opened as the Welcome Diner the next year. In 2013 Michael Babcock and Jenn Robinson joined the Welcome team as partners, Chef and Controller respectively, bringing with them a soulful Southern edge to the Farm to Table American Fare for which the Diner is known.
The duo — also behind popular Valley spot Welcome Chicken + Donuts , specializing in Korean-style fried chicken and artisan doughnuts.
As far as the menu at the new Tucson Welcome, the restaurant will lean more toward Welcome Diner than Welcome Chicken + Donuts. That means Tucson residents can soon look forward to the modern Southern fare residents have come to love at the downtown Phoenix diner, and Babcock says he'll expand on the menu at the new restaurant. Look for "inventive small plates," the chef says, adding that he's looking forward to having access to a full kitchen (unlike the tight quarters inside the nine-seat eatery at 924 East Roosevelt Street in Phoenix).
Welcome has already applied for a liquor license.
Roy Drachman with Roy Drachman Realty Company in Tucson handled the transaction for the seller and the buyer was self-represented.
For more information, Drachman should be reached at 520.748.8400.
To learn more, see RED Comp #3597.