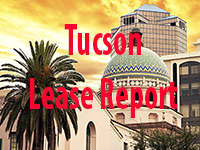 The following commercial leases were reported to the Real Estate Daily News for the Tucson Lease Report from February 1 thru 5, 2016.
RETAIL – 6210 N TANQUE VERDE, TUCSON
The new China Bamboo Restaurant has leased 3,700-square-feet. at 6210 N. Tanque Verde.  The site is the former location of the hog pit restaurant, and will be completely remodeled into a traditional fine dining Chinese restaurant and bar. It is expected to open in late spring, to be operated by a local Chinese family. The landlord was represented by Pete Villaescusa – CBRE, the tenant was represented by Gary S Lovelace of Spectrum Real Estate Services.
RETAIL – THE SHOPS at RANCHO SAHUARITA, SAHUARITA
Nicole Ferrero leased a 1,111-square-feet office at The Shops at Rancho Sahuarita for a State Farm office. The Shops at Rancho Sahuarita is part of a Fry's anchored shopping center at the northwest corner of Rancho Sahuarita Boulevard and Sahuarita Road in Sahuarita.
Per Nichole "We care about our clients and serve them with the remarkable service they deserve! It is our job to talk with our clients and discover their needs to help them set up an Insurance and finacial plan! We will uncover gaps in insurance and overages in insurance coverages and make suggestions to adequately cover those things. It is then in the clients court. It is the clients "job" to make the decision and run their family and its budget how they see fit. We must give them the proper education". The center is now 100% leased!
Dave Hammack and Brenna Lacey of Volk Company represented the landlord, Rancho Sahuarita Commercial Ventures LLC, in the lease.