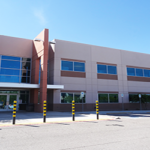 TUCSON, AZ – Lee & Associates is proud to announce the sale of a 72,000-square-foot former Raytheon Missile Systems flex office building at 3360 E. Hemisphere Loop, Building M10, Tucson for $10.5 million ($145.83 PSF).
Lee Principals Jerry Marrell and Dave Johnson negotiated on behalf of DCG IV, LLC, a Seattle-based investment firm. Lee Principal Pete Batschelet procured the buyer, 3360 E. Hemisphere Loop, LLC, Scottsdale.
Built in 2008, the single-tenant, two-story, building sits on approximately 4.45 acres with an additional 4.92 acres of land available for expansion. The building features 4.67/1,000 parking, two split system A/C systems and a contemporary architecture in a business park setting. It is a Department of Defense approved facility and was a built-to-suit for Raytheon Missile Systems. The property is close to the I-10 Freeway and Tucson International Airport.
Raytheon Missile Systems is headquartered in Tucson and is the largest non-governmental employer in the city. This business unit specialized in advanced weaponry development and is a critical defense industry contractor. Raytheon Co. is a technology and innovation leader specializing in defense, civil government and cybersecurity solutions. Founded in 1922, the company provides state-of-the-art electronics, mission systems integration, capabilities in C5I (command, control, communications, computing, cyber and intelligence), sensing, eff ects and mission support services. Raytheon Co. is headquartered in Waltham, Massachusetts.
For additional information, Marrell is at 602.954.3744, Johnson should be contacted at 602.954.3745 and Batschelet can be reached at 602.912.3522.
To learn more, see RED Comp #4103.