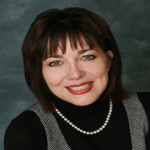 TUCSON, Ariz. – The Tucson Association of REALTORS® (TAR) honored its top-performing 2017 members at the Annual TAR Installation and Awards ceremony held at the J.W. Marriott Starr Pass Resort & Spa on November 17. Tucson Association of REALTORS® 2016 President Eric Gibbs, Sr. of Coldwell Banker Residential Broker served as emcee. Arizona Department of Real Estate Commissioner Judy Lowe installed the in-coming 2018 Board presidents of TAR, MLS of Southern Arizona and the Tucson REALTORS® Charitable Foundation.
The association's 2017 award winners are:
REALTOR® of the Year: Lisa Suarez, EMS Realty, Inc. This award recognizes an individual member who contributes to TAR and the overall real estate industry as a strong leader, and is a valuable asset to the general community.
Lisa Suarez joined Tucson Association of REALTORS® in 1986. Her successful background includes over 25 years experience in property sales and management, as well as the critical areas of legal proceedings and real estate standards and practices. Suarez owns and operates one of Southern Arizona's leading property management companies.
Suarez has served the industry at the local, state and national levels as the 2009 President of the Tucson Association of REALTORS®, 2017 President of the Tucson REALTORS® Charitable Foundation, and on the Arizona Real Estate Advisory Board in 2003. She actively supports the Tucson community as a volunteer, including serving on the Board of Directors for Casa de los Ninos from 2005-2010.
Affiliate of the Year: Lauren Smith Klase, Stewart Title
Affiliates are key non-REAL TOR® members and supporters of TAR and are honored for serving with leadership and distinction.
TAR Rookie Award:
Candy Bowen, Tierra Antigua Realty
Corporate Community Achievement Award:
Long Realty Company
This honor recognizes a REALTOR® company that demonstrated exceptional commitment to making our community better. It is one of the more competitive categories because so many companies do many good things throughout the year.
Florence Johnoff Community Achievement Award:
Andee Anthony, Title Security Agency
This award recognizes an Affiliate company or individual and the collective efforts of its employees in community service and involvement in TAR. Johnoff was the association's first woman president in 1977 and a leader in civic service.
Roy Drachman Community Achievement Award:
William "Billy" Mordka, Harvey Mordka Realty
This award recognizes a REALTOR® for their civic service and community involvement. It is named for Roy Drachman, a well-known Tucson REALTOR®, and innovative commercial developer and generous philanthropist.
Outstanding Service Award:
Henry Zipf, Keller Williams Southern Arizona
Sierra Hardy, Long Realty Company
This award recognizes individuals who serve TAR and the broader industry with distinction.
Committee of the Year (2):
(Committee) Communications/Community Outreach Committee
(Task Force) CEO Search Task Force
As TAR's top-performing committees these volunteer groups are honored for advancing the goals of the association.
Honorary Life Members:
Paul Olson, Vantage Point Realty
Thomas Weddingfeld, Russ Lyon Sotheby's International Realty
Vicki Cox-Golder, Vicki L. Cox & Associates
To be considered for this honor, an individual must have been an active TAR member for at least 30 years. During that time they must accumulate at least 15 total years of volunteer service to our association. This achievement is in tribute to their professionalism, expertise and dedicated willingness to serve their peers and industry.