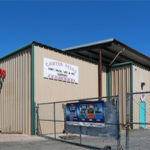 Tucson Rubberized Coatings, Inc. (David Mahmoodi, manager) purchased the property at 1430 West Wetmore Road in Tucson for $190,000 ($95 PSF). The former Carter Feed Store, located at the northwest corner of La Canada and Wetmore is 2,000-square-feet with an additional out building / storage and a large canopy with fenced perimeter.
Tucson Rubberized Coatings, a Tucson-based company was founded in 1999 by Saeed Mahmoodi, David's father, and specializes in the manufacturing and wholesale of Elastomeric Roof Coatings, and Stucco and Wall Coating Supplies for the Do-It-Yourselfers, contractors and maintenance professionals.
Flat roofs work here in Arizona, as long as they're in good shape – waterproof, with no cracks or fissures that can let our occasional torrential rains leak through, damaging ceilings and the things below.
"When choosing a roof coating, look for two things: the ratio of white pigment in the form of titanium dioxide (the same sun-blocking material in many sunscreens) and resins (the matrix that determines the flexibility of the coating) in the product," advises David Mahmoodi, general manager of Tucson Rubberized Coatings.
Mahmoodi says good quality roof coating should have at least 1 pound of titanium dioxide per gallon and that there should be as much, or more, resin per gallon. Much of the remaining ingredients of a coating solution is thickeners and emulsifiers, which make the coating spreadable and keep the ingredients from separating.
"Not all resins are equal," says Mahmoodi. "Some are more flexible than others. And they also have differing abilities to resist picking up the dust and dirt that yellow white roof coatings over time." "As they yellow, or brown," Mahmoodi says, "they lose their ability to reflect heat, raising your cooling costs."
Better formulas also resist "chalking," the degradation of the coating that leads to the surface turning to powder and losing its reflectivity and water resistance.
Mahmoodi says another development in some roof coatings that they offer is the use of insulating microspheres, microscopic ceramic particles that reflect light and heat, but also insulate to keep heat in the house – an advantage in the winter.
"Generally, white coatings are good at cooling, but not heating. But insulating microspheres are great for heating as well," he says. "They help to reflect sunlight in summer but to keep heat in in the winter. Microspheres have been around, but they've been hard to disperse. We've altered our formula to suspend them so that you get an even amount."
This will be the third location for the company in Tucson with plans to expand into the Phoenix market next year.
Tucson Rubberized Coatings other two locations are at 6351 S. Tucson Blvd. in Tucson, and 5355 E. 29th St., in Tucson
Jeff Zellet with Cushman & Wakefield | Picor handled the transaction, representing the seller, Stephen Joseph Enos of Tucson.
For additional information, Mahmoodi can be reached at 520.293.3444 and Zellet should be contacted at 520.546.2739.
To learn more, see Red Comp #3894.