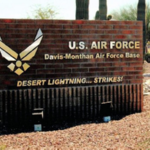 "Tucson Thanks Our Airmen and Families BBQ" is set for noon to 4 p.m., Thursday, September 3, to thank an expected 5,000 airmen and women and their families at Davis-Monthan's Bama Park, to enjoy an afternoon of food, live music and outdoor activities, jumping castles, corn hole tournaments and games.
Tucson's largest deployment of military personnel since World War II will be coming home and the Tucson Metro Chamber Military Affairs Committee and other local groups and organizations want to throw a welcome home party.
"Tucson will be coming together to show appreciation to our service men and women. It is my hope that everyone in the community will go up and say 'thank-you' when meeting a military person in the community," said Mark Irvin, one of the businessmen who first conceived of such the celebration and got the ball rolling.
Other sponsors or the event who joined in were Jim Click, BSD Winers & Diners up, City of Tucson, Pima County, Citi, B-Side Cover Band, Visit Tucson!, Arizona Diamondbacks, PICOR, Villas Ice, Finley Distributing, Sentinel Peak Brewery, TEP, UofA Athletics, Assurance Healthcare, USO, Eegee's, SAHBA, Tucson Community Cares Foundation, Air Force Association Tucson Chapter, F&S Distributing, Boys & Girls Club, Pizza Hut of Arizona, and Safeway.
Those returning to D-M have been training in close-air-support missions alongside other NATO nations including Estonia, The Czech Republic, Romania, Poland, Slovakia, The United Kingdom and Lithuania. D-M forces originally left home in February and have been part of a longer, two-year training mission across Europe.
"This is an amazing opportunity for Tucson to show their support for the men and women who serve our country and keep us safe," said Welcome Home Event Organizer Ellen Jimenez, Committee Chair for the Military Affairs Committee. "We want them to know we are happy to have them home with their families."
The following PSA will begin running today on local TV click here to view: TucThnxMilitary30V2 – Small
For questions please contact Ellen Jimenez at 520-468-8209 or ellenjimenez@viscountsuite.com