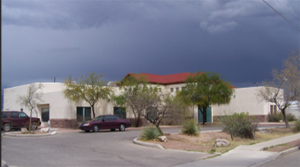 TUCSON Arizona – Tin Cup Properties, LLC of Tucson (John Lashley, manger) purchased a 7,808-square-foot office building located at 100-126 W. 37th St. in Tucson from Tucson Urban League for $500,000 ($64 PSF).
The property was vacant at time of sale and buyer purchased to lease to StrengthBuilding Partners, dba Las Puertas Community School.  Las Puertas Community School a college readiness, tuition-free, public charter school serving grades 6-10 will be going in July 1.
StrengthBuilding Partners (SBP) is a training, coaching and mentoring organization working in partnership with schools, organizations and individuals to improve the lives of children, adolescents and families. Formed in 1999 as a non-profit, 501(c)(3) organization to teach people how to use the powerful tool of StrengthBuilding® to create systemic change. SBP developed StrengthBuilding thirteen years ago as a way to incorporate current and emerging social sciences research into practical application with children and families. SBP provides professional development in StrengthBuilding, utilizing the StrengthBuilding philosophy and process as a catalyst to change the individual, their interactions with others and to create systemic change in schools and communities.
The property (built 2001) was previously a pre-school that had been licensed for 85 students with multiple classrooms. There's a commercial kitchen, fenced administrative offices, two large bathroom banks; two ADA bathrooms, 9 feet clear height ceiling, 15 feet clear height, and security system. The large playground on .85 acres included lots of playground equipment.
Ron Zimmerman, Commercial Specialist with Cushman & Wakefield | PICOR, represented the seller, Tucson Urban League, in the sale and the landlord, Tin Cup Properties in the lease transaction.
The Cushman & Wakefield | PICOR team of Russell W. Hall, SIOR, GSCS, Stephen D. Cohen, and Kelly Fickle, Industrial Specialists with Cushman & Wakefield | PICOR, represented the tenant.
For more information, Hall should be reached at 520.546.2747, Cohen can be contacted at 520.546.2750, Fickle is at 520.540.2734 and Zimmerman should be called at 520.546.2755.
To learn more, see RED Comp #4909 for this transaction that closed June 8th.