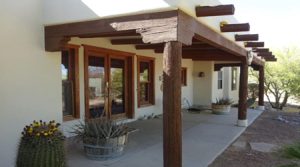 TUCSON, AZ, March 31, 2023 – In separate but concurrent transactions, two 10-bed assisted living homes at 1680 & 1681 W Placita Abreojos in Sahuarita sold for a total of $1.05 million ($52,500 per bed). Located off Twin Buttes Rd and Camino Confianza, on a cul-de-sac, in Sahuarita, the two buildings are adjacent.
Both properties were leased by the buyer, SK3 Realty Holdings, LLC, dba Family Loving Kare, since 2015, and will continue to be owner operated. The two converted SFRs total 5,641 square feet and were constructed in 1995 and 2000.
Mark Biery, JD, CCIM, Associate Broker and Senior Housing Specialist with Berkshire Hathaway in Tucson, represented the seller, Precious Heir Holding Co., LLC.
"These two deals were a bit tricky, even though the Buyer was occupying the buildings and operating the assisted living businesses," Biery said.  "The Sellers were out of state, so all communications were by email, and all documents were signed electronically and remotely.

"We were in escrow for eight months.  The contracts were signed last summer, but the Buyer wanted to wait until January to close for tax reasons," Biery continued.  "Then we had two more months of delays due to SBA financing difficulties."
Shoshana Galvez with OMNI Homes International in Tucson represented the buyer.
"On the Buyer's side, Shoshana Galvez was a delight to work with," said Biery.  "She's a residential agent and new to the industry, but she was prompt, professional, and one of the best residential agents I've ever dealt with.  She'll do very well in her real estate career."

"Mark is an excellent communicator and was extremely cooperative," Galvez added. "This made for two very smooth and efficient transactions. I'd enjoy the opportunity to work with Mark again in the near future."
Both properties closed on March 15, 2023, in two separate transactions.
For more information, Biery can be reached at 520.235.2531, and Galvez should be contacted at 520.474.1777.