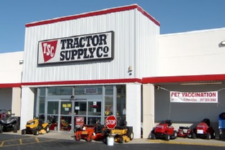 TUCSON, ARIZONA – Tucson South Development Group, LLC, an affiliate of Long Development Corporation (David Long, president) sold the Tractor Supply store at 1715 W Valencia to IS Corporation of Boca Raton, Fla. for $5.075 million ($234 PSF) in a net lease sale.
The 21,702-square-foot Tractor Supply store on 2.3 acres was a built-to-suit in 2017 and is the fourth Tractor Supply in metro Tucson with other locations in Catalina, Green Valley and Marana.  The store includes a 15,000-square-foot fenced outdoor display area.
Located near the new 104,000-square-foot Fry's Supermarket along Valencia Road, a major arterial road serving the southwest submarket of Tucson. Neighboring tenants include Walmart Supercenter, Lowe's and several banks and restaurants.
Tractor Supply Company targets ranchers, homeowners, do-it-yourselfers, contractors and trade workers, with its inventory that includes tractor/trailer parts and accessories.
Long was self-represented in negotiations for the seller.
For more information on this transaction and the future development, Long should be contacted directly at 602.574.0731.
To learn more, see Red Comp #5273.