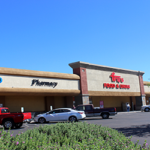 GLENDALE/SCOTTSDALE, AZ – Two high-profile shopping centers sold in separate transactions in the past 60 days: Fry's Food Store anchored 51st & Olive Square at 5116 W. Olive Ave., Glendale sold for $9.25 million ($165.40 PSF) and Playa Del Norte, 555 N. Scottsdale Rd.,Tempe for $7.1 million ($617.44 PSF).
At 51st & Olive Square, Lee & Associates principals Patrick Dempsey and Jan Fincham negotiated both sides of the transaction. The buyer was 51 & Olive Station LLC of Cincinnati, OH. The 88,225-square-foot property features a Fry's Food Store, Fry's Fuel Station, Leslie's Pools, UPS Store and Papa Murphy's.
At Playa del Norte, Lee & Associates principals Patrick Dempsey, Jan Fincham, Chris McClurg and Matt Fredrick co-listed and secured the buyer, Crow Holdings Capital Real Estate of Dallas, TX. The 11,499-square-foot retail plaza features high-volume tenants such as Starbucks, Jersey Mike's, Wing Stop and T-Mobile.
Both properties sold to institutional buyers for investment.
For more information Dempsey can be reached at 602.954.3772, Fincham is at 602.954.3754, McClurg can be contacted at 602.954.3766, and Fredrick can be found at 602.912.3532.