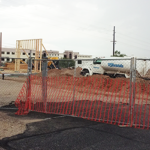 TUCSON, Arizona — La Cholla–OG, LLC (Neil Kleinman, manager) purchased the .85 acre parcel at the southwest corner of Orange Grove and La Cholla Blvd in Northwest Tucson for $610,000 ($16.45 PSF) from Little Group (Troy Little, member).
The former Quik Mart corner is being redeveloped for a new Starbucks at 6363 N La Cholla Blvd. in Tucson.
Cushman & Wakefield | Picor handled the transaction. Greg Furrier represented the buyer and Aaron LaPrise represented the seller in the transaction.
The second Starbucks is under construction at 1765 W Valencia on the south side of Tucson.
Starbucks Corporation has also leased a 3,000-square-feet building under construction, at the southwest corner of Valencia and Indian Agency Road, adjacent to a brand new 100,000-square-foot Fry's grocery store. This is the first new Fry's store to open in Tucson in almost ten years.
Other tenants in the center include Nationwide Vision, Pizza Patron, and Great Clips. Greg Furrier of Cushman & Wakefield | PICOR represented the Tenant. Brenna Lacey of Volk Company represented the landlord, Steamroller Pad LLC.
For more information, Lacey can be reached at 520.326.3200, Furrier is at 520.546.2735 and LaPrise can be contacted at 520.546.2770.
To learn more login and see RED Comp #4941 and for more listings of this type go to RED Listing Registry.